A webinar is a conference or a seminar that is held over the internet. It is designed to take advantage of the Internet to bring together individuals in different geographic locations in an online meeting.
Traditionally online conferences and webcasts have been one-way affairs, but with new technologies such as Adobe Flash and VoIP, interactive online seminars have become reality.
Basic Requirements:
As an attendee, all you need is a fast and reliable high-speed internet connection and, of course, an up-to-date browser (Microsoft Internet Explorer, Mozilla Firefox, Apple Safari, etc.) with the latest Adobe Flash plug-in.
For the Best Webinar Experience:
To fully enjoy an interactive Phoenix Conservatory of Music webinar, there are a few additional items required (see our specific recommendations below):
a good quality USB headset with noise cancellation and a mute feature
a USB digital connection instead of the traditional audio port
a very quiet office / home office environment
a good quality webcam
Our Recommendations:
These are recommendations based on what has worked well in our own experience. (And no, we don't own stock in Logitech.)

Webcam – Any Logitech HD webcam (details here…) or if you have a notebook computer with a built-in webcam use that one.
Headset – Any Logitech USB headset (details here…), but any good quality USB headset will suffice. In most cases the webinar will have more than 3 attendees, but in cases where there are 3 or fewer attendees, the host may decide to assign each one a microphone. In this scenario everyone can talk and will be heard by all. A proper headset, as described here, is a must in this scenario.
External speakers – if you are not using a microphone or headset, then any speakers are fine; although a headset will provide the best audio experience. If you are using a notebook computer with a webcam & microphone, make sure you set your microphone to mute in order to prevent audio feedback.
Audio/Video Check – Before attending your first webinar make sure you have tested and verified your audio/video setup.
Close All Other Programs!
It is also important to note that any extraneous applications on your computer should be closed. For instance, any application that uses the internet (such as an Instant Messaging program, Skype or an e-mail client such as Outlook) or any sort of media player (Windows Media Player, Winamp or iTunes), could potentially interfere with the webinar. Similarly, any BitTorrent or download manager should be terminated before joining the webinar.
Ok, so how do I get started?
If you have received an invitation to attend a Phoenix Conservatory of Music webinar, a few minutes before the scheduled start of the webinar:
follow the link provided in the invitation,
enter your name and e-mail when prompted to join the meeting,
if you see the Adobe Flash Player Settings dialogue, make sure you click on "Allow", otherwise you won't get sound and/or video!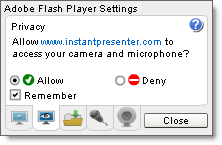 Ok, then what?
Once your host has started the meeting, welcomed all invited attendees and ensured that audio and video streams can be received by all, the rules for interacting with the webinar host and with other attendees will be explained.
These rules will cover, for instance, when and how an attendee can use their microphone to interact with the group.
While our webinar service provider offers several ways to interact, the Phoenix Conservatory of Music webinar will rely mostly on sharing the host's computer screen.
Everything on my screen looks so small!
For the best viewing experience, make sure you first maximize your browser window, then click Maximize in the top right-hand corner of the InstantPresenter workspace: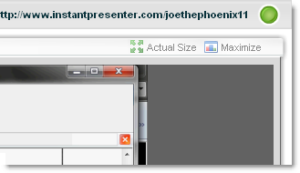 What if I want to ask a question?
Once the webinar is in progress and only the host's video and microphone are turned on, as an attendee you have two ways of asking a question:
Just type your question in the chat text box (and press [Enter]). This is the preferred option since the chat box is easily visible to all attendees as well as the host.
Click on your name in the attendee list and change your "Mood" from Normal to Question. This method is only effective if the attendee list in the left hand column is visible to the host.
I can't hear the presenter any more. How can I get the audio portion back?
If the video portion (screen sharing) of the webinar appears to be working but you've lost the audio portion, make sure that you let the presenter know right away. Send a quick text message in the chat text box.
Somehow I got disconnected. What should I do?
If for any reason you find yourself disconnected from the webinar, first make sure that you resolve any connection issues at your end.
Once you have confirmed that you have a proper connection to the internet, just try to re-join the meeting. Go to this web page and follow the normal procedure for joining the webinar.
In the event that the webinar host has lost connection and the webinar has been prematurely terminated through a technical problem, you may have to give the host a few seconds to resolve any issues at his end before he can re-start the webinar. It may take several minutes before everybody can successfully re-join the webinar.
Testing your internet connection:
Sometimes the quality of your internet connection, and by extension, your webinar experience, may be reduced due to unknown circumstances. Perhaps the internet is experiencing general problems, perhaps one of the ISPs is down.
Conducting both a speed test and a ping test will provide a sense of where the connection problem may lie.
Click on this link or this link to conduct a speed test and on this link to conduct a ping test. Choose a server based on your geographical location.
Why InstantPresenter?
While we have tested and evaluated more than a dozen different webinar and online conferencing services, we at the Phoenix Conservatory of Music have currently settled on the services being offered by InstantPresenter, a company located in California.
The combination of a superior meeting recording feature, excellent screen sharing, interactive white board and presentation features, plus very positive feedback from a controlled group of testers (actually some of our students), are what has convinced us to go with InstantPresenter.